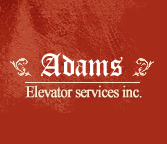 Ascenseur Adams Elevator Services Inc., located in Montreal, prides itself with installation, modernization, maintenance and repairs of elevators and escalators.
Founded in 1976 by Jerry Oughourlian, with the administrative support of his wife Zivart — after all, behind every successful man is a great woman — the family-operated company is currently managed by their children. After working for a competitor company in Brazil, Oughourlian had the vision to start a company in Canada that specializes in installation and service for elevators and escalators.
The company has been operating for 44 years and is always looking to expand internally and externally.